Healthcare Provider Resources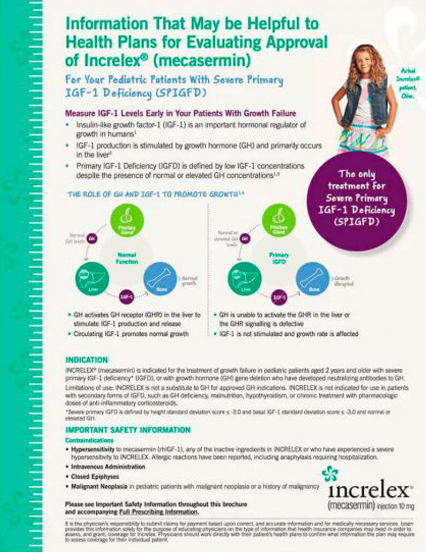 INCRELEX® Health Care Coverage Information Resource
The INCRELEX® Health Care Coverage Resource may be helpful to understand what types of information health plans need to evaluate coverage of INCRELEX®. It also includes a reminder of the INCRELEX® indication and important safety information and why it is important to measure Insulin-like growth factor-1 (IGF-1) levels early in your appropriate patients.
Download
INCRELEX® Unit Calculation Guide
INCRELEX® Unit Calculation Guide may be used to determine the volume of medication to be administered to achieve the prescribed dose of INCRELEX®. The guide overviews the recommended starting dosage of INCRELEX® and how it should be individualized for each patient.
Download
INCRELEX® Titration Flashcard
INCRELEX® dosing should be individualized based on the periodic assessment of each patient's weight, tolerability, and laboratory parameters.1 This flashcard gives a brief overview of how to adjust INCRELEX® dosing based on three simple steps.
Download
Support for Your Patients
IPSEN CARES®
IPSEN CARES® is a comprehensive support program designed to help your patients get access to the medications and services that they need. The program is designed to simplify the process of applying for and getting coverage for INCRELEX® as well as to serve as a central point of contact between you, your patients' parents or guardians, insurance companies, and specialty pharmacies.
The IPSEN CARES® program helps your patients by providing the forms that will help your staff get eligible patients enrolled and authorized, provides information on copay programs and other financial assistance, and helps coordinate home delivery and home injection services. For patient eligibility criteria and terms and conditions please visit the IPSEN CARES® website.
INCRELEX® Patient Education Brochure
This brochure provides information about INCRELEX® for those who are starting their SPIGFD treatment journey. It provides details of how INCRELEX® works to help children grow and how their treatment needs to be determined based on their age, weight, height and tolerability.
The brochure provides a practical means for parents to record their child's growth progress, and space to note any questions that they may wish to ask during follow-up appointments. Important safety information about INCRELEX® treatment is included, as is information about the IPSEN CARES® support program.
Download